Historic St. Charles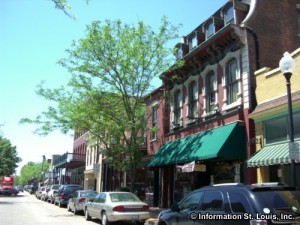 Missouri's First State Capital can be found on Main Street in Historic St. Charles. Legislators made decisions and approved new laws for the new state of Missouri at this location between 1821 and 1826. Today, tourist can visit the First State Capital or walk up and down cobblestone Main Street and see the renovated historic buildings, some dating back to the late 1700s and early 1800s. Historic St. Charles is also on the Missouri Wine Trail and has several wineries in the historic district.
Historic St. Charles Festivals
Many annual festivals are held on Main Street as well as in Frontier Park, located along the Missouri River, just one block away. The Festival of the Little Hills is held every August with food, crafts, entertainment and fun! Christmas is a special time in Historic St. Charles. Christmas Traditions, a month long Christmas Festival, is a group of actors that act out the traditions of Christmas, from the Sugar Plum Fairy, to Carolers, to Father Christmas, they can all be found along the streets of Historic St. Charles in December. Free Concerts, the MOSAICS Art Fair, Fete de Glase - Festival of Ice, food truck events, and many more events are held through out the year.
Shopping and Dining in Historic St. Charles
While spending the day on Main Street in Historic St. Charles, be sure to visit the many unique shops and fantastic restaurants that reside within those beautiful historic buildings. Some of the restaurants include Llywelyn's, Lewis & Clarks, Tony's on Main Street, Salt + Smoke, Bella Vino Wine Bar, Krawl Daddy's, Hendrick's BBQ, and many more. Some of the unique shops include Serendipity Gifts, Whimzy Collections, Jake's On Main, MOss Boutique, The French Flea, The Flower Peddler, and many more.
Greater Saint Charles Convention & Visitors Bureau
230 S Main Street
St. Charles, MO 63301
636-946-7776 or 800-366-2427